Benefits Of Our Sidewalk Repair Service:
Cost Effective
Clean and Fast
Attractive Finish
Easy to Audit
Environmentally Responsible
ADA Compliant
Patented Engineering
GIS Compatible Survey Data
REMOVE THE LIABILITYKEEP THE SIDEWALK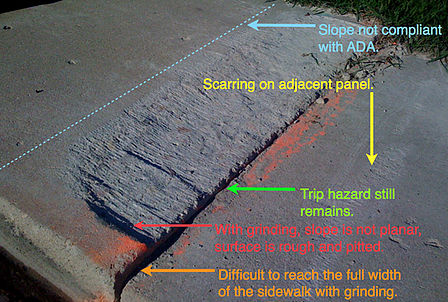 1
Concrete grinders and scabblers, while commercially available and less expensive than replacement or filling, are more costly than the Precision Concrete Cutting Northern California cutting method. Grinders are also unable to reach the edges of the sidewalk or grind the sidewalk level with the next concrete panel, so the trip hazard often remains.
2
Not only can Precision Concrete Cutting Northern California reach the edges of every sidewalk, we can remove trip hazards from virtually any angle and at any location. Trip hazards caused by cracked concrete or located in hard-to-reach places such as in gutters or adjacent to a wall will be eliminated without any damage to nearby impediments.
3
Our method takes very little time, with few inconveniences to people using the walkway. The result is a safe, clean-cut walking path provided at a lower cost than any other method.
SATISFACTION GUARANTEED
Using patented technology, Precision Concrete Cutting Northern California removes tripping hazards from sidewalks rendering them not only ADA compliant but also virtually hazard free. FSS delivers the highest quality in the industry–across all facets of our business.
Our finish is the

finest

Our paperwork is the

clearest

Our sidewalks are the

safest

Our technique is the

fastest

ADA COMPLIANCE
The Americans with Disabilities Act (ADA) of 1990 defines a 'trip hazard' as any vertical change of over 1/4 inch or more at any joint or crack. Since the ADA demands strict compliance, trip hazards represent a legal liability to our clients. Cities, school districts, hospitals, churches, shopping malls, universities, apartment complexes, and other large buildings are all extremely concerned with this liability.
Our patented horizontal saw-cutting technology completely and cleanly removes trip hazards from sidewalks, virtually eliminating claims that result from trips and falls on uneven sidewalk. By having Precision Concrete Cutting Northern California remove their trip hazards, our clients reduce their legal liability using the most efficient and cost effective method available.
Our service, unlike other approaches, accurately measures each offset to ensure that we achieve the slope required by ADA specifications. The only alternative available to achieve ADA compliance (if done correctly) is removal and replacement, which is costly, disruptive, and time consuming.
Each offset will be tapered according to the specifications requested by the client and will have a uniform non-slip surface.
The raised sidewalk will be cut from edge to edge and brought to a zero point of differential settlement, completely eliminating the trip hazard.