Serving Northern California
Precision Concrete Cutting Northern California (PCC NorCal) has three offices in the Northern part of the state and provides services from Bakersfield to the Oregon border. In addition to the National presence, PCC NorCal is the local expert in sidewalk safety management. PCC NorCal works with over 100 Cities and Counties, 5,000+ private and commercial communities and hundreds of school facilities each year. PCC NorCal has the local resources, knowledge, and experience to get the job done right the first time. With PCC NorCal you can keep the sidewalk and remove the liability.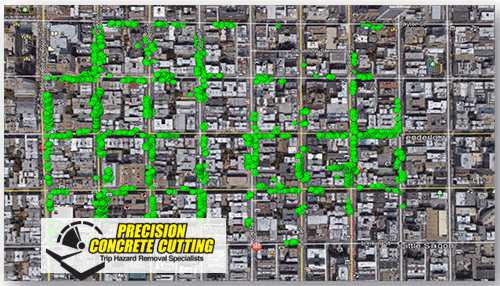 Sidewalk Assessment and Data Collection Services
Precision Concrete Cutting Northern California provides sidewalk assessment/inspection and data collection services. PCC NorCal will walk every sidewalk in the project area to perform a condition assessment and will collect measurements, photographs and geo-code each location. All of the information will be provided in an easy to use and GIS compatible report. The information will provide our clients and stake holders with the information needed to confirm the areas needing repair, document repairs that have been made and plan future projects. Gone are the day of managing your sidewalks with pen and paper or an excel report. PCC NorCal can provide assessments of entire cities, counties, school districts, apartments, homeowner associations, theme parks, business parks, hospitals and shopping malls.